How travel regresses you, in the best possible way
I saw this post and thought it was so appropriate. Travel teaches you to step out of the self you thought you were!
Posted May 10th, 2014 by theplanetd.com How travel regresses you, in the best possible way
***
"Lompat saje" my Indonesian captain tells me. "Jump" he says again in case I didn't get his message the first time.
I am on the bow of a small boat in the middle of the Flores Sea. We are at Manta Point to be precise; and about to go snorkelling in hopes of seeing the giant manta rays. I have a life jacket on, I can swim well, and the other guests and guide were already in the water. But I find myself hesitating.
I stand up and prepare to leap into the sea when a voice calls out to me "You're supposed to sit and fall in backwards! If not you could hit your head on the boat" it shouts; adding to my increasing worry about jumping in.
(Making my peace with the boat)
When did this happen? I wondered. I was a daredevil child who had no fear in climbing trees, swimming in rivers and cycling on mountain bikes built for a kid twice my size. I grew up almost fearless I must say, though even now typing these words down I realize it was more that I grew up without reflection, without questions on my action or the potential consequences of it.
As I grew up though, my vision of the world started to change. Trees that were so much fun to climb became a harbinger of potential red ant nests that could come out and sting you. Pools of crystal clear water that used to beg to be swum now brought the potential fear of drowning, or god forbid, being eaten by a crocodile/ shark. Where I used to stay outdoors hours on end playing in the sunshine; I now had to make sure I drank enough water, had a hat on, as well as sunscreen so that I don't burn. My body seemed to become frailer, and my soul seemed to become fearful.
The worst part was that travelling, the one passion that I love and believed would bring with it freedom was sometimes what made the fear worse. Travelling alone can make you afraid of your own shadow, especially when you're in a dark alley. Adventure travels make you question fragility of life, wondering "oh my god, is this bus taking me down this mountain going to crash?" Even leisure travel could be daunting, when you look at the food in the streets that looks so scrumptious, but then you ask yourself, "Is this going to give me food poisoning?"
"But you know what?" I reminded myself, "You're still alive, you're still healthy, and you're still travelling." Because what you learn most on the road is that:
Travelling is you learning to live all over again and trying on different lives in the meantime
Every day, you may make choices as though they were your first. You take nothing for granted. You challenge yourself in the most basic things. Going to the bathroom may actually involve learning how to dig a hole in a tropical rain forest (and asking permission nicely from the spirits of the forest as locals do). Feeding yourself may involve learning how to set up a fire to cook. You learn as all those who have been on this journey before you do and in the process you learn to appreciate the most basic of things even if its "thank god I didn't give myself food poisoning with my own cooking"
(It isn't in the most grandiose of adventures that makes you a traveller, it is actually in the mundane everyday choices that you constantly iterate.)
Travelling mostly involves staring your fear straight in the eyes
You could be worried about that bus ride, or know that you get seasick on a boat or even worried about the sanitation levels in that roadside eatery. But you need to get from Point A to Point B. You need to eat. You could hum and haw as much as you want, but at the end of the day, if you really need to get there, you're going to have to grab on to that fear, hop on that scary train, and make it to the other side. Whether you like it or not. And you're going to keep doing this every single day.
Travel invokes faith

(Sometimes the scariest thing is realizing how small you are in the scheme of the world)
The fear that often gets exponentially large in travel also increases faith in the same manner. It is only when you are on the road do you realize how much nicer people could be to strangers, how friendlier your fellow countrymen could be to you in a foreign land, or how even in the worst of situations, things will get better, because they simply must. You are forced to believe in the good of the world and the possibilities of the world, because if not, you may as well sit at home scared to death of the mailman.
"Everything will be all right in the end… if it's not all right then it's not yet the end" – Best Exotic Marigold Hotel
Travel makes you live in the here and now
You could come up with a hundred different ways you could hurt yourself while travelling. But I realize it's only when you think too far into the future, when you worry about secondary order effects, that's when the fear really pushes you deep. Just like a child, who has no clear idea about the future or repercussions, travel reminds you that right now… right now, you are standing in front of a beautiful piece of architecture history, or right now, you are staring at a piece of art. Standing on that boat, I realized I could just think to myself "jump! and you'll be embraced by the cool water" rather than "jump! hit the cool water… and then bump my head against the boat."
So in the end, I jumped. Leaped high into the air, pointed my toes down and left my thoughts at that. I didn't head my head on the boat. My bikini ran up instead. Which really wasn't the worst thing that could happen after all.
(My perfect 'Indiana Jones' moment)
Travelling may blow all your fears into a large hyperbole, but its reward is just as large. Pretend you're back as a child, seeing things for the very first time. Embrace that spirit of adventure, of possibilities, of something new. You could easily don on the myriad of life options it could bring. You could be a travelling gypsy or a bohemian bard. You could be Indiana Jones fascinated with the tombs of Angkor Wat or a Viking in the northern cold. Or you could be a Glamourous Traveller, seeing the world as you want to be seen. Stylishly.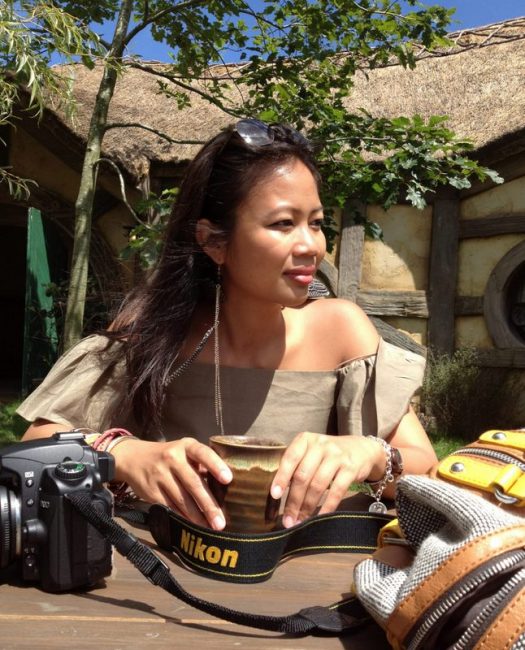 Bio
Liyana Jamil is a true believer that there can be harmony between travelling and style. She believes stylish travelling is possible for all, and loves bringing her everyday clothes on trips as she believes this is a true reflection of your personal style and glamour.
She is the founder of Glamourous Traveller a website dedicated to providing tips, trick and advice on anything travel and fashion related. When she is not planning outfits to pack and travelling the world, she can be found exploring her current home base of Singapore.
You can also find her on Facebook (click here), twitter @GlamTraveller as well as Instagram @GlamourousTraveller